Dr Alexis Ong (Dentist)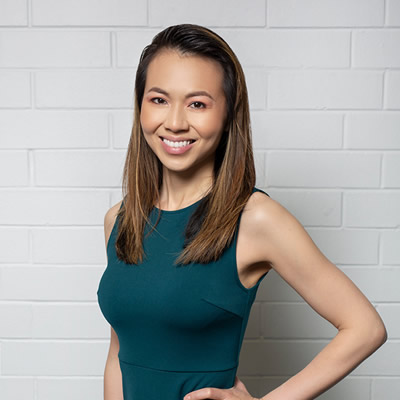 To prepare for her career in dentistry, Alexis graduated in 2005 from the University of Melbourne with Honours. In the 14 years of her career, she has spent her time mostly in private practice, but also has experience within public service where she was responsible for dealing with emergency cases in the hospital and be the assistant to the oral surgeon. She has also worked in the children's hospital where she dealt with children's orthodontics needs and special needs children.
She regularly takes continuing education courses to stay abreast of the latest dental technology and trends. She's taken courses in implantology, orthodontics, and advanced crowns and bridges. Alexis is also a member of the Australasian Academy of Dento-Facial Aesthetics (AADFA).
Providing an Exceptional Experience
As the practice name indicates, Exceptional Dental Care's objective is to give every patient the best experience possible. It's not enough that they provide high-quality dental treatments. This is why Alexis pairs first-class dentistry with a welcoming and lovely experience. The office is bright and cheerful, some might say it's like a dental spa! You can relax and watch TV in the waiting room and even charge your phone or work on your laptop.
Crafting Stunning Smiles
Alexis finds it highly fulfilling to provide a spectrum of dental services. Whether she is seeing patients every six months for their checkups or restoring their smiles with cosmetic treatments, she loves transforming lives.
I particularly enjoy the artistic side of dentistry and creating beautiful smiles."
Keeping You Comfortable
Maybe you had a negative dental experience as a child. If that experience has prevented you from taking care of your smile, Alexis wants to help. She is kind and reassuring and can put the most nervous patients at ease. You will never be judged about the state of your smile but instead, be welcomed to the practice and encouraged about what Alexis can do for you.
In Her Spare Time
When she's not at the practice, Alexis enjoys running, yoga and spending time with her three children. She also speaks English, Chinese and Malay.
Schedule an Appointment
Experience friendly and personalised dental care. Contact our Spearwood practice today to book a convenient appointment. We are open Saturdays and Sundays and provide emergency care after hours.
* Any surgical or invasive procedure carries risks. Before proceeding, you should seek a second opinion from an appropriately qualified health practitioner.

Dr Alexis Ong | (08) 6154 0330