Care for Anxious Patients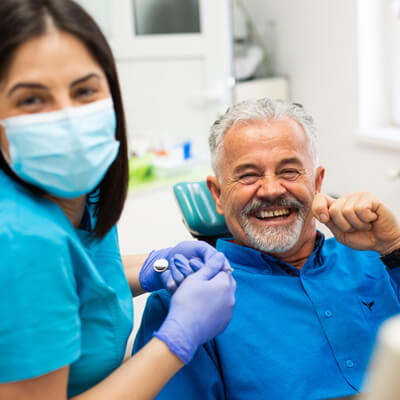 We understand that visiting the dentist can be a nerve-wracking experience for some people. At Exceptional Dental Care, we're committed to providing a comfortable and stress-free environment for all our patients, especially those who may feel anxious or fearful about dental treatments.
Our compassionate team is here to support you every step of the way, from the moment you walk through our doors to the completion of your treatment. We offer a range of sedation options to help you relax during your visit, ensuring that you receive the dental care you need with minimal discomfort.
Nitrous Oxide (Laughing Gas)
Nitrous oxide, commonly known as laughing gas, is a safe and effective sedative agent that is mixed with oxygen and inhaled through a small mask that fits over your nose. This helps you to feel more relaxed during your dental procedure. The effects of nitrous oxide are mild and wear off quickly, allowing you to drive yourself home after your appointment.
IV Sedation
Intravenous (IV) sedation involves administering a sedative drug directly into your bloodstream via an IV line. This method provides a deeper level of relaxation compared to nitrous oxide and is an excellent option for patients who require more extensive dental work or have severe dental anxiety. Our highly trained team will monitor your vital signs throughout the procedure to ensure your safety and comfort.
Diazepam (Sleepy Pills)
Diazepam, also known as Valium, is an oral medication that can help to reduce anxiety and promote relaxation before a dental appointment. You will be prescribed a dose to take an hour before your scheduled visit, which will help you feel more at ease during your treatment. Please note that if you choose this option, you will need someone to drive you to and from your appointment, as the effects of diazepam can impair your ability to operate a vehicle safely.
Your Comfort is Our Priority
At Exceptional Dental Care, we are dedicated to providing personalized care tailored to your unique needs and preferences. If you're a nervous patient, please let us know when scheduling your appointment so that we can discuss the best sedation option for you. We're here to help you achieve and maintain a healthy smile in a comfortable, stress-free atmosphere.
Don't let dental anxiety hold you back from receiving the care you need. Contact our office today at (08) 6154 0330 to schedule an appointment and take the first step towards a healthier, happier smile.
CONTACT US
* Any surgical or invasive procedure carries risks. Before proceeding, you should seek a second opinion from an appropriately qualified health practitioner.

Care for Anxious Patients Spearwood, Coogee, North Coogee WA | (08) 6154 0330