Sleep Dentistry at Exceptional Dental Care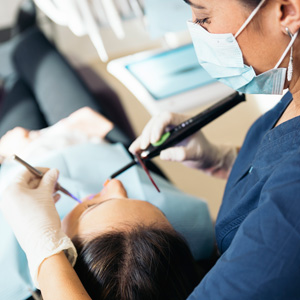 Do you find yourself getting anxious before your dental visits? Does the thought of undergoing a treatment stress you out, even though it may be something you need and want done?
Exceptional Dental Care is proud to now offer sleep dentistry at our practice. Sleep dentistry, also known as 'twilight sedation', is an advanced method that uses light anaesthesia to put you in a twilight state during a dental treatment.
This is different from traditional anaesthesia as a hospital is not required, therefore costing much less than it did before. Undergoing sleep dentistry is now easier than ever before, and is carried out in the comfort of our practice. Think of it this way—you aren't completely put under, but just enough so that you're relaxed and calm for your visit.
You'll also be able to leave our practice in just an hour after your treatment is completed—with sleep dentistry at Exceptional Dental Care, there's no lengthy recovery period while you come out of sedation as you would in a medical setting.
Frequently Asked Questions
Am I a candidate for sleep dentistry?
You likely are! We'll need to evaluate in person and discuss your treatment before moving forward, however. Nearly 98% of patients are candidates, and most who undergo twilight sedation have nothing but positive things to say about it.
Is sleep dentistry covered by health funds?
It's possible. We recommend checking with your provider. You can also provide us with the necessary information and we'll be happy to check for you.
Do I need to arrive to the practice early?
Yes, we recommend arriving to our practice a half an hour before your treatment is scheduled to start. This will provide us with the necessary time needed to place you into a twilight state. We'll explain everything that's happening along the way so there are no surprises. It's always our goal to keep you relaxed and at ease.
Why should I consider sleep dentistry?
Here's the big reason: Sleep dentistry can actually save you visits to our practice. If you're anxious about visiting us, why not enjoy the perks of sleep dentistry and have all of the work done that you require in one visit? Without sleep dentistry, an anxious patient may have to visit us several times in order to complete the necessary course of care.
Learn More Today
If you're curious about sleep dentistry and whether or not it's right for you, we'd love to invite you to our practice to learn more. Contact us today to schedule a visit.
We look forward to speaking with you.
CONTACT US
* Any surgical or invasive procedure carries risks. Before proceeding, you should seek a second opinion from an appropriately qualified health practitioner.

Sleep Dentistry | (08) 6154 0330