Veneers
Would you like to change the size, shape, colour and position of your teeth? You can with veneers. This type of smile makeover is ideal for those who aren't happy with their smile. Veneers can give your teeth a bright, attractive and natural-looking appearance.
What Are Veneers?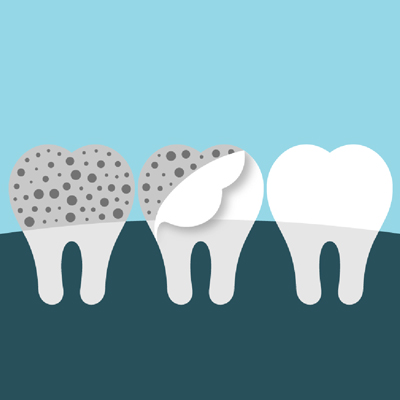 A veneer is a thin, tooth-coloured shell that's affixed to the front of your existing teeth. Veneers can conceal various dental imperfections. These include:
Chipped teeth
Discolouration and staining
Gapped teeth
Misaligned teeth
Misshapen teeth
The majority of patients can get veneers. Your teeth, however, must be free of decay and gum disease. You can get quick results and feel confident about your smile with dental veneers.
Refresh Your Smile on the Day
Whether you have an upcoming big event such as a wedding or a job interview, you want to look your best. We can provide you with composite veneers in just one appointment, which should only take about two hours. Composite veneers aren't as strong as porcelain veneers. They are, however, an affordable option.
Our dentists will create the shape and colour of each tooth to ensure that you are pleased. They then will paint on the composite material one layer at a time. Your teeth then will be shaped, and the composite will harden into place.
Frequently Asked Questions
At our practice, we strive to make care available for patients who need it. We'll work with you to determine the exact cost of your care so there won't be any financial surprises. We'll be able to better help you understand the total cost of your care when you visit us for a consultation.
Will veneers feel different than my natural teeth?
No! Most patients are surprised that once their veneers are placed, it only takes a few hours to get used to how they feel—because it's not much different than your natural teeth at all. Others won't even be able to tell you've had anything done—aside from noticing your bright, straight, beautiful smile.
With the high-quality veneers we use at
Exceptional Dental Care
, you can expect them to last for 10 years or more. To maintain your veneers, it's essential to keep up with oral hygiene by brushing and flossing daily. Keep your
dental checkups
every six months.
Book a Consultation
Schedule a free consultation to find out if veneers Spearwood are right for you. You can even bring in a picture of a celebrity's smile that you like for us to use as an example. You'll be involved in the planning process each step of the way to ensure that you are delighted with your results.
* Any surgical or invasive procedure carries risks. Before proceeding, you should seek a second opinion from an appropriately qualified health practitioner.

Dental Veneers Spearwood, Coogee, North Coogee WA | (08) 6154 0330